Are you looking for a gps tracker for your motorcycle? Here we review five great motorcycle gps tracker options no matter where you are in Australia.
One of the primary advantages of using GPS trackers for your motorcycle is their enhanced security. These compact devices can be discreetly installed on motorcycles, making them difficult for thieves to detect or tamper with. By tracking the location of your motorcycle in real time, these trackers act as a powerful deterrent against potential thefts.
In addition to deterring thieves, motorcycle GPS trackers enable you to take immediate action if your bike is stolen. With just a few taps on your smartphone app, you can pinpoint its exact location and alert authorities promptly. This significantly increases the chances of recovering your stolen motorcycle quickly and minimizing potential damages.
Best Gps Trackers for Your Motorcycle – Five Best Options
1. SinoTrack ST-901 Motorcycle GPS Tracker
Regarding tracking your motorcycle's whereabouts, the SinoTrack ST-901 GPS Tracker is your reliable and compact companion, ensuring peace of mind on every ride. With its built-in WCDMA, GSM, and GPS double antennas, you can trust that this 4G tracker will always keep you connected.
Equipped with ACC ignition detection and text message alerts, you'll receive notifications for movement, speeding, entering or leaving areas, low battery, shocking, and driving reports. The Sinotrack Pro GPS app and web platform allow for real-time tracking, with positioning accuracy of up to 10 meters. You can also save two years of tracking history with 2-time intervals.
Product Specs:
4G Network with built-in WCDMA, GSM, and GPS double antennas
Requires a local SIM card with 4G (WCDMA) network (not included)
Real-time tracking through SinoTrack Pro GPS app or web platform
Positioning accuracy of up to 10 meters
Can save two years of tracking history with 2-time intervals
Compact dimensions of 3.14 x 2 x 0.4 cm and weight of 110 g
Pros:
Reliable and compact design
Text message alerts for various events
Real-time tracking and history memory
Suitablmultiplearious vehicles, including motorcycles
Built-in backup battery for uninterrupted tracking
Cons:
Short battery life when disconnected
Some users reported faulty devices and slow customer support
Price & Purchase
$62.99 – Buy SinoTrack ST-901 4G Motorcycle GPS Tracker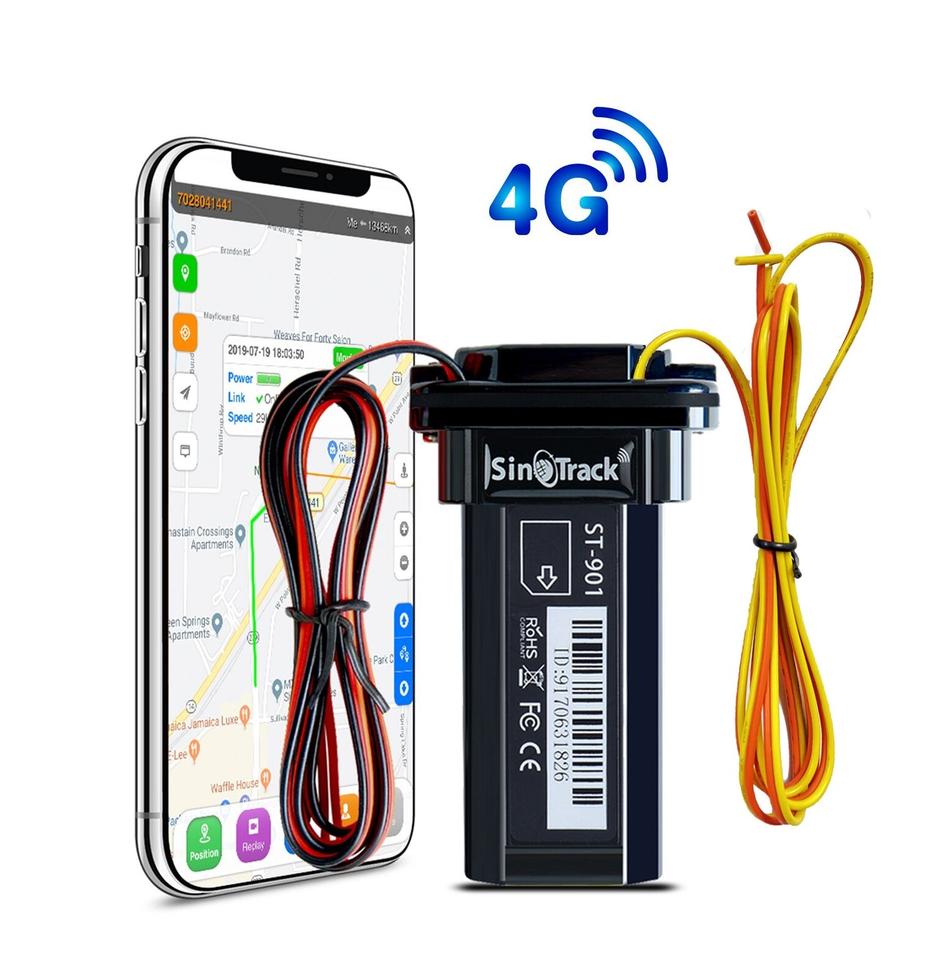 2. MoniMoto Smart Motorcycle GPS Tracker
The MoniMoto Smart Motorcycle GPS Tracker, with its super compact size and wireless capabilities, offers a practical and functional solution for tracking your bike's location and ensuring peace of mind on every ride.
This GPS tracker, manufactured by Monimoto, is designed to be compatible with smartphones, making it convenient and easy to use. With USA and Europe coverage, you can track your motorcycle no matter where you are.
The MoniMoto 7 also comes with a 2-month free subscription, allowing you to test its features without additional cost.
Product Specs:
Manufacturer: Monimoto
Model: MM7E1
Part Number: MM7E1
Compatible Devices: Smartphone
Special Features: Wireless
Number of items: 1
Batteries Included: Yes
Batteries Required: No
Battery cell composition: Lithium
Product dimensions: 6.1 x 1.9 x 9.4 cm; 180 Grams
Item Weight: 180 g
Manufacturer: Monimoto
ASIN: B095YYB6TV
Item Model Number: MM7E1
Batteries: 2 AA batteries required. (included)
Date First Available: 27 May 2021
Pros:
Super compact size for easy hiding
Wireless capabilities for convenient usage
Quick response time and easy setup
Positive feedback on customer support experience
Practical and functional design
Cons:
Potential reduction in battery life with added features
The desire for customizable notification messages in the future
Notification messages when the tracker is activated could be improved
Price & Purchase
$250.45 – Buy MoniMoto Smart Motorcycle GPS Tracker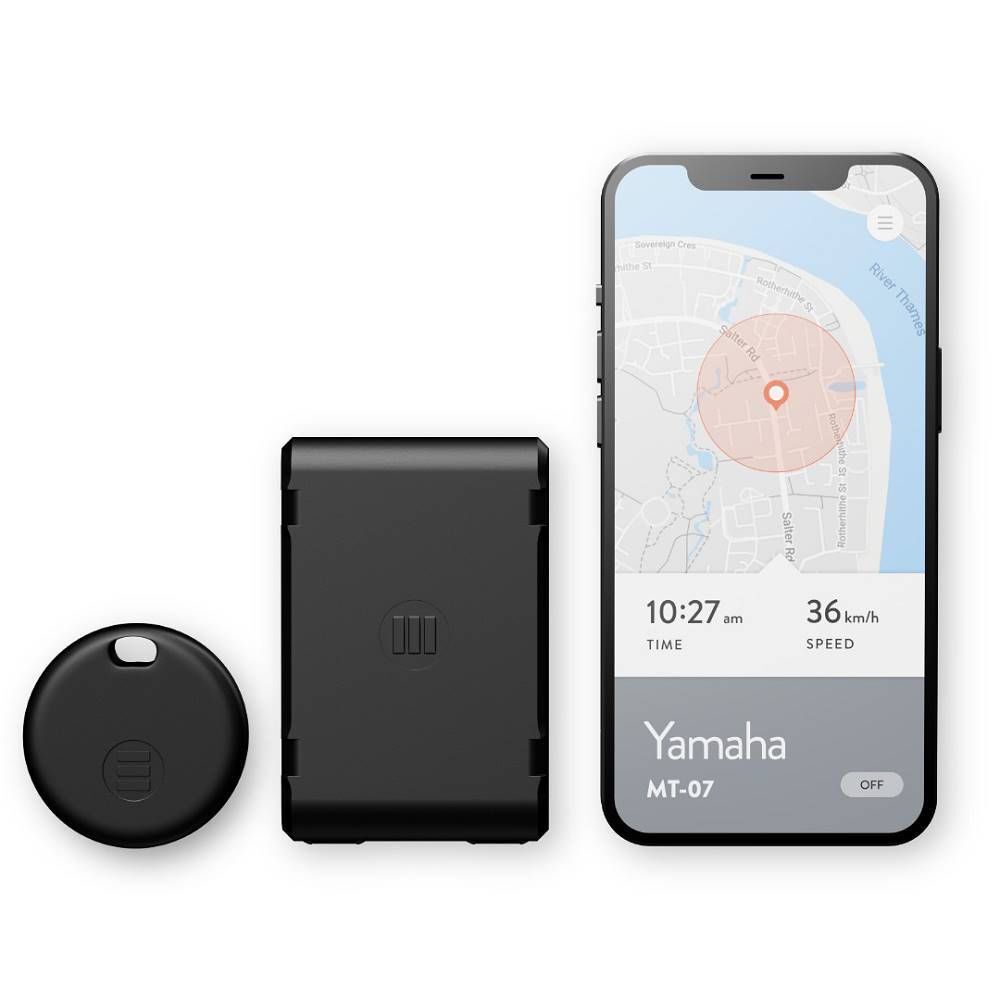 3. Mini Magnetic 2022A GPS Motorcycle Tracker
Compact and powerful, the Mini Magnetic 2022A GPS Motorcycle Tracker from Vape and Wires seamlessly blends technology and convenience, providing peace of mind for riders. This mini tracker is designed specifically for motorcycles and offers a range of features to enhance security and tracking.
With its small dimensions of 1.57×0.91×0.63inch (40x23x16mm) and lightweight design, it can be easily attached to any motorcycle using its powerful magnets.
The Mini Magnetic 2022A GPS Motorcycle Tracker is packed with advanced functionalities. It supports real-time positioning, allowing you to track your motorcycle and view its location on Google Maps. The tracker can be controlled remotely via your smartphone, allowing you to monitor and manage your motorcycle from anywhere.
This GPS tracker is compatible with a working SIM card and requires no installatioAttachach it to your motorcycle and start using it. It offers a talk time of 150-180 minutes and a working time of 4-6 days, ensuring long-lasting performance.
Product Specs:
Brand: Vape and Wires
Model: 2022A
Colour: Black
Dimensions: 1.57×0.91×0.63inch (40x23x16mm)
Talk Time: 150 – 180 minutes
Working Time: 4 – 6 days
Expansion Card: Mini TF card
Network: GSM/GPRS
GSM Band: 850/900/1800/1900Mh
GMS Locating Time: 25 Seconds
Power Input: AC 110-220V 50/60Hz
Power Output: DC5V 300 – 500mA
Battery Capacity: 3.7V 400mAh Li-ion Battery
Working Voltage: 3.4 – 4.2V DC
Storage Temperature: 40 to 85 Celsius
Operation Temperature: 20 to 55 Celsius
Special Features: Magnetic
Compatible Devices: Smartphone
Package Dimensions: 10.49 x 7.39 x 4.39 cm; 68 Grams
Item Weight: 68 g
Manufacturer: Vape and Wires
ASIN: B09MQ8THRP
Date First Available: 29 November 2021
Best Sellers Rank: 158,860 in Electronics (See Top 100 in Electronics), 2,469 in GPS, Navigation & Accessories
Pros:
Compact and lightweight design
Powerful magnets for easy attachment to motorcycles
Real-time positioning and tracking using Google Maps
Remote control and management via smartphone
No installation is required, works with a working SIM card
Cons:
Limited talk time and working time
Requires a separate mini TF card for expansion
Limited compatibility with devices other than smartphones.
Price & Purchase
$90.05 – Buy Mini Magnetic 2022A GPS Motorcycle Tracker
4. Sitecomm SC-4001 Mini 4G Vehicle GPS Tracker
Imagine effortlessly keeping tabs on your vehicle's location and receiving instant notifications with the Sitecomm SC-4001 Mini 4G Vehicle GPS Tracker. This compact and reliable device is perfect for tracking cars, trucks, boats, jet skis, and farm equipment.
With its easy installation and Optus network coverage, you can easily monitor your vehicle's whereabouts anytime.
The SC-4001 Mini 4G GPS Tracker offers unlimited tracking, ensuring you never lose sight of your vehicle. It also comes with 100% Australian support and a 1-year warranty, giving you peace of mind. The device is waterproof with an IP67 rating, making it suitable for various weather conditions. Its backup battery can last up to 2 days, providing continuous tracking even when the power source is disconnected.
With the SC-4001 Mini 4G GPS Tracker, you can set up geofences and receive email, web, and push alerts informing you of any unauthorized movements. The device's memory can store over 8000 positions, ensuring you have a comprehensive tracking history.
Product Specs:
Dimensions: 75mm x 44mm x 17mm, Weight: 77g
Power Input: DC 10-90V 500mA
Operating Temperature: -35°C to 80°C
Memory: 8 MB buffer, can store 8000+ positions
GPS Sensitivity: -165 dB, Positioning Accuracy: 2.5 meters
Pros:
Easy installation and setup
Unlimited tracking and geo-fencing
Waterproof and durable design
Backup battery for continuous tracking
Cons:
Requires a subscription to Sitecomms tracking service
Limited stock availability
Limited customer support available outside of Australia
Price & Purchase
$180.00 – Buy Sitecomm SC-4001 Mini 4G Vehicle GPS Tracker
5. Elinz 4G GPS Tracker Real Live Tracking Device
Get ready to experience the ultimate peace of mind on the road with Elinz 4G GPS Tracker – the driving companion that keeps you connected to your vehicle in real time, ensuring you're always in the driver's seat of your own destiny. With its advanced GPS tracking technology and compatibility with 2G, 3G, and 4G networks, this device offers unparalleled accuracy and reliability.
Whether you need to monitor fuel consumption, set up a geofence, check the status of your vehicle, or receive over-speed alerts, the Elinz 4G GPS Tracker has got you covered. Its optional I/O poso allows for extended functionality, making it a versatile tracking solution.
With no subscription or annual fees, you can enjoy lifetime tracking without additional costs. Accessible through a web browser or the LKGPS2 App, tracking your vehicle has never been easier. And with its remote engine immobilization feature, you can even cut off the petrol supply with a simple SMS command. Trust in the Elinz 4G GPS Tracker to provide you with the security and peace of mind you need on the road.
Product Specs:
Supports WCDMA triple band and GSM quad bands
GPS data uploaded through WCDMA/GPRS
Compatible with all Australian Telcos
Works on 2G, 3G, and 4G networks
Optional I/O port for extended functionality
Accessible through web browser or LKGPS2 App
Pros:
Accurate and reliable GPS tracking
No subscription or annual fees
Remote engine immobilization feature
Over-speed alerts and vibration sensor
Geofence for virtual border notifications
Cons:
APN preset for ALDI mobile requires configuration for other Telcos
Device dimensions not specified
Price & Purchase
$179.95 – Buy Elinz 4G GPS Tracker Real Live Tracking Device
Choosing the Right Motorcycle GPS Tracker for Your Needs – Factors To Consider
There are several factors you need to consider based on your individual requirements. Let's dive into critical key considerations:
Cost: Determine your budget and find a GPS tracker that fits your price range.
Ongoing Monthly SIM Card Charges: Some trackers require monthly subscription fees for data usage. Make sure to check if this is included in the cost or if there are additional charges.
Coverage Area: Consider the coverage area of the tracker's network provider. Ensure it offers reliable coverage in your riding areas.
Installation Process: Look for a tracker that is easy to install, whether it requires hardwiring or can be powered by batteries.
Size: Consider the size of the GPS tracker and ensure it can be discreetly mounted on your motorcycle without being obtrusive.
Features: Assess the features different trackers offer, such as real-time tracking, geofencing, and mobile app compatibility, to meet your specific tracking requirements.
Availability of Customer Support and Warranty Options: Check if the manufacturer provides reliable customer support and warranties for their products.
By considering these factors when choosing a motorcycle GPS tracker, you can find one that suits your needs and ensures peace of mind while riding.
Compatibility with motorcycles, motorbikes, or bikes is essential when selecting a tracking system. Unique features like GLONASS compatibility can enhance accuracy in tracking vehicles even in remote areas with limited mobile coverage.
Main Features of Motorbike GPS Tracking Devices
Motorbike GPS tracking devices offer a range of features that enhance the security and convenience of motorcycle owners. Here are some key features to consider when choosing a gps tracking device for your motorcycle in Australia:
Real-Time Tracking
Stay updated on your bike's location with real-time tracking technology.
Track your motorbike's movements accurately and instantly.
Geofencing
Set virtual boundaries or geofences to receive alerts when your bike enters or exits specific areas.
Enhance security by monitoring unauthorized movement.
Movement Alerts
Receive notifications if your motorbike is moved without authorization.
Promptly react to potential theft attempts.
Speed Alerts
Set speed limits and get alerted when your bike exceeds them.
Monitor riding behaviour and ensure safety.
Route History
Access detailed route history to review past journeys taken by your motorcycle.
Keep track of mileage and analyze riding patterns.
Waterproof Design
Ensure the GPS tracker can withstand various weather conditions, including rain and splashes.
Battery Life
Opt for a device with long battery life to minimize the need for frequent recharging.
Choose a reliable power source that lasts for extended periods.
Compatibility with Mobile Networks
Confirm compatibility with mobile networks available in Australia for seamless connectivity.
Ensure reliable communication between the tracker and your smartphone.
Ease of Installation
Look for user-friendly installation options that don't require extensive technical knowledge.
Simplify the setup process without compromising effectiveness.
Discreet Design
Select a tracker with a discreet design to avoid drawing attention to its presence on your motorbike.
Maintain the aesthetics of your bike while benefiting from enhanced security.
Remote Engine Immobilization
Some advanced GPS trackers can remotely immobilize the motorcycle's engine.
Increase security measures by preventing unauthorized use of your bike.
Vibration Alerts
Receive alerts when your motorbike experiences unusual vibrations or tampering.
Promptly address potential threats and ensure the safety of your bike.
Connectivity with Mobile App
Choose a tracker that integrates with mobile apps for convenient access to tracking data.
Monitor your motorbike's location and receive notifications on the go.
Motorbike GPS tracking devices provide essential features to safeguard your motorcycle in Australia. Consider these aspects when selecting a suitable device, ensuring optimal protection and peace of mind.
Why Buy A Motorcycle GPS Tracker?
Vehicle Security
Installing a GPS tracker on your motorcycle enhances its security and provides peace of mind. Motorcycle security is a top concern for riders, and a GPS tracker is a valuable tool to protect your investment.
With a motorcycle GPS tracker, you can easily track the location of your bike in real time, making it easier to recover if it gets stolen. This added layer of security helps deter thieves and increases the chances of getting your motorcycle back.
Additionally, some GPS trackers offer features like geofencing and tamper alerts, which notify you if your motorcycle is moved without your permission. By investing in a reliable motorcycle GPS tracker, you're taking proactive steps to ensure the safety and security of your vehicle.
Theft Prevention
To protect your investment and keep thieves at bay, safeguard your motorcycle like a fortress with an impenetrable security system. Here are four essential theft prevention measures that every motorcycle owner should consider:
Install a motorcycle tracker: A GPS tracker can help you locate your stolen bike quickly and increase the chances of recovery. You can set up alerts for any unauthorized movement with real-time tracking and geofencing capabilities.
Use a sturdy lock: Invest in a high-quality lock resistant to cutting, picking, and drilling. Make sure to secure your motorcycle to a fixed object, like a post or railing, to prevent it from being easily carried away.
Park in well-lit areas: Thieves prefer darkness, so parking your motorcycle in well-lit areas with surveillance cameras can deter potential thefts. Avoid secluded spots and choose locations with high foot traffic.
Consider an alarm system: An audible alarm system can startle thieves and draw attention to the attempted theft. Look for an alarm with a loud sound that can be easily installed on your motorcycle.
By implementing these theft prevention measures and investing in a reliable motorcycle tracker and security system, you can significantly reduce the risk of theft and ensure the safety of your prized possession.
Insurance Benefits
Insurance provides numerous benefits for motorcycle owners, including financial protection in the event of theft or damage. When it comes to protecting your motorcycle, insurance coverage is crucial.
In Australia, where motorcycle theft is a concern, insurance can give you peace of mind knowing you're financially protected. One of the ways insurance can benefit you is by covering the cost of installing GPS trackers for motorcycles.
These tracking devices can help locate your motorcycle in the unfortunate event of theft, increasing the chances of recovery. Insurance companies often offer discounts for motorcycles equipped with GPS trackers, making it a cost-effective solution.
Insurance benefits can also include coverage for any damage caused to your motorcycle, whether it's due to an accident or other unforeseen circumstances. You can ride confidently with insurance, knowing you have the necessary protection.
Emergency Assistance
In the unfortunate event of theft or damage to your motorcycle, insurance coverage provides a lifeline by offering emergency assistance to help you easily navigate the difficult situation.
With the help of a solid GPS tracker, your insurance provider can quickly locate your stolen motorcycle, increasing the chances of recovery.
The emergency assistance insurance companies provide often includes services such as towing, roadside assistance, and even accommodation if needed. These services can be a valuable resource in times of distress, ensuring you receive the necessary support and guidance.
Additionally, installing a reliable GPS tracker on your motorcycle enhances your vehicle's security and strengthens your insurance coverage. By meeting the requirements set by your insurance provider, such as installing approved GPS trackers, you can enjoy the full benefits of emergency assistance in case of theft or damage.
Peace of Mind
Now that you understand how GPS trackers can provide emergency assistance for your motorcycle let's explore another benefit they offer: peace of mind.
With GPS trackers designed explicitly for motorcycles in Australia, you can have the assurance that your bike is always secure and protected. These trackers provide real-time location updates, so you can easily monitor your motorcycle's whereabouts at all times.
Whether at work, home, or travelling, you can rest easy knowing your bike is safe and sound. In the unfortunate event of theft, GPS trackers can significantly increase the chances of recovering your motorcycle quickly.
This added security can bring a sense of calm and confidence, allowing you to fully enjoy your rides without worrying about the safety of your beloved motorcycle.
Conclusion
In conclusion, investing in your bike's GPS tracker is a wise decision that provides numerous benefits and peace of mind. By choosing the right tracking solution and considering factors such as price, features, and reliability, you can ensure the safety and security of your motorcycle.
The top motorbike GPS tracking solutions in Australia offer a range of features to suit different needs. Whether you require real-time tracking, geofencing capabilities, or anti-theft alerts, a tracker is available to meet your requirements.
Motorcycle GPS trackers come equipped with various features that enhance their functionality. These may include waterproofing for durability in all weather conditions, long battery life for extended use without recharging, and compatibility with mobile apps for convenient monitoring on the go.
Investing in a motorcycle GPS tracker can protect your bike from theft and increase the chances of recovery if it gets stolen. Installing a tracker can help lower insurance premiums and provide evidence in case of accidents or disputes.
To make an informed purchase decision, consider factors such as cost-effectiveness, ease of installation and use, customer reviews and ratings. Choosing a reputable brand known for its quality products and reliable customer support is also essential.
Please don't wait until it's too late! Now, safeguard your investment by purchasing a motorcycle GPS tracker today.
FAQs
1. How does a motorcycle GPS tracker work?
A: Motorcycle GPS trackers use satellite technology to pinpoint the location of your bike at any given time. They transmit this information to your smartphone or computer via cellular networks or other communication channels.
Further reading on GPS can be found at GpsTRack – GPS or Wiki – Global Positioning System.
2. Can I track my bike in real-time using a GPS tracker?
A: Yes! Many motorcycle GPS trackers offer real-time tracking capabilities that allow you to instantly monitor your bike's location through an app or web portal.
3. Will installing a GPS tracker affect my bike's battery life?
A: Most GPS trackers are designed to have minimal impact on your bike's battery life. However, choosing a tracker with efficient power management features is essential to ensure optimal performance.
4. Are motorcycle GPS trackers waterproof?
A: Yes, many GPS trackers for motorcycles are built to be waterproof or water-resistant, ensuring they can withstand various weather conditions without compromising functionality.
5. Can a GPS tracker help lower my insurance premiums?
A: Yes! Some insurance companies offer discounts for motorcycles equipped with GPS trackers as they are considered a theft deterrent and increase the chances of recovery in case of theft.
6. How difficult is it to install a motorcycle GPS tracker?
A: Installation difficulty varies depending on the specific tracker model and your bike's configuration. However, most GPS trackers have detailed instructions and can be easily installed following the guidelines.
7. What should I do if my bike gets stolen, even with a GPS tracker?
A: In case of theft, immediately notify the authorities and provide them with real time tracking information from your GPS tracker. This will significantly increase the chances of recovering your stolen bike quickly.